In the early 1900's, jazz music was not always played so freely. For quite some time, black and white jazz musicians were forbidden to play together in public. After playing on Mississippi Steam Boats, Louis Armstrong and Bix Beiderbecke began playing late night, after hours shows in Chicago in the 1920's. This was a big deal because Bix was a white man. But, you cannot stop the good song from being played! As we discovered through our research, Great Grandpa, Bob recorded with Armstrong and Beiderbecke during this period.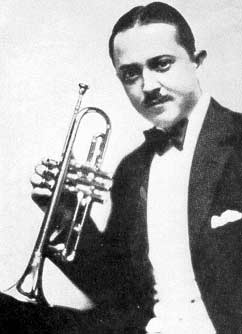 Photo credits: Louis Armstrong "Satchmo" and Bix Beiderbecke - approx. 1921
(photographer credits to follow)
As we all know, Louis Armstrong is an American Jazz legend. In our family he is considered a friend. His warmth and kindness towards Jewish people is remembered and outstretched to this very day. I believe that jamming with men like Great Grandpa Bob and Bix Beiderbecke cemented Armstrong's belief the music should not be segregated. Stay posted for music recorded by these great trumpeters!
P.S. Fun fact: Louis Armstrong spent part of his childhood with a Jewish family, the Karnofsky's of New Orleans. Armstrong's Jewish influences and music like "Go Down Moses" remains a key song at Passover Seder meals.
Sources:
Hentoff, Nat. "How Jazz Helped Hasten The Civil Rights Moment."
The Wall Street Journal
. Dow Jones & Company, n.d. Web. 06 Apr. 2014.
"Louis Armstrong." 2014. The Biography Channel website. Apr 06 2014, 09:13

http://www.biography.com/people/louis-armstrong-9188912